Published on May 20th, 2022 | By Admin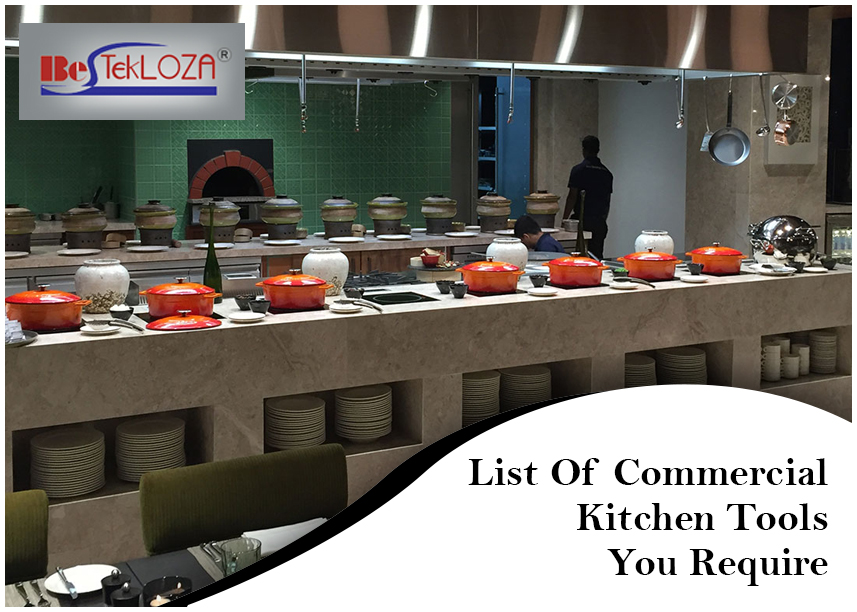 Opening a restaurant is exciting. But there are a lot of responsibilities to fulfil along with buying the best kitchen equipment India. Here's how to do it.
To make your restaurant successful, the initial step is to have the best kitchen equipment. Not only does it reflect your business needs but also ensures that your team can work efficiently. Given below is the list of commercial kitchen tools that are a must-have.
Ultimate Checklist For Essential Restaurant Kitchen Appliances
Food processors
In the list of essential kitchen appliances, the first thing that you need is food processors. Three main types of processors can also help you serve delicious dishes in no time. These are:
Batch bowl processors
Buffalo choppers
Continuos feed food processors
Ovens
Every canteen business has ovens on its checklist. Additionally, different types of ovens help you sort out different activities. Convection ovens are best for cooking food rapidly but with occasional inconsistent temperatures. On the other hand, a combination oven is ideal for operation by both microwaves and conventional heating.
Ranges/Ventilations
Similar to cooking appliances, ranges and ventilation is also an integral part of the restaurant kitchen. Thus, ask your kitchen supplier to provide you with these three things:
Gas ranges
Electric ranges
Ventilation
Mixers
What's a commercial kitchen without a wide range of mixers to grind food? The better you blend, the better will the dish taste. Further, the checklist of mixers in your kitchen is:
Countertop mixers
Hand mixers
Floor mixers
Sinks
Since cooking is an art, it is common to produce a lot of wastewater. It is due to reliable sinks that cater to public requirements including hygiene. A variety of sinks are available for a good commercial kitchen. These are
Both bar sinks and compartment sinks
Drop-in units
Disposal sinks
Mop sinks
Handwashing sinks
Portable sinks
Other Kitchen Equipment You Might Need
Slicers: for an ideal slicing of raw materials.
Cutting boards and food prep counters
Safety appliances: to further avoid problematic circumstances.
Servingware
Refrigerators and freezers: help in keeping food fresh for a long.
Restuarant kitchen supplies
Extra Storage containers: you might need them urgently, but their uses are definite.
Shelving and storage racks: where you can store additional food items.
Steam tables
Microwaves: for warming as well as baking dishes.
Ice makers: to make ice for desserts, ice creams, and other dishes.
Electric grills as well as gas
Washing tools: ensures proper cleaning of utensils
Steam tables
Kitchen display system: helps in keeping a track of orders as well as their prices.
To Conclude
Are you looking for the best kitchen equipment supplier in Kolkata? Contact BestekLoza and order the most assorted range of commercial kitchen appliances at affordable prices. Hence, get the finest kitchen equipment Kolkata at your ease.