Published on July 23rd, 2019 | By Admin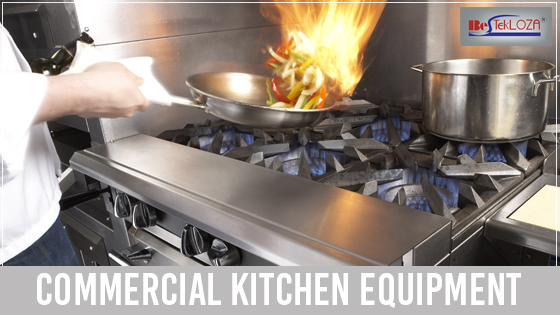 The functioning of a kitchen is dependent mainly on two things – the skill of the people involves and the kitchen equipment that are being used. Commercial kitchen requires efficient workers – from cooks, to cutting and chopping staff, to cleaners to servers. A perfect coordination between all can ensure that the commercial kitchen functions smoothly. However, what is equally essential is the presence of good Commercial Kitchen Equipment which are very essential for bulk services and customer handling of a big number. 
Here are a few of the kitchen equipment required in every commercial kitchen –

Coffee Machines : Coffee is an essential requirement of every eatery. At any time of the day there is always a st4eady demand for coffee. With the need of coffee every now and then it becomes very essential to churn out freshly brewed coffee every now and then to meet the requirement of the clients. For this, commercial coffee machines are the ideal ones to churn out fresh and hot coffee in batches so that the client is not kept waiting. There are automated coffee machines which can keep up to the steady flow of demand for the coffee.
Dishwashers : Commercial kitchen is not just about cooking the best dishes but also to reach out those dishes to the clients on time. For that it is required that there is always a steady and ready supply of freshly cleaned dishes which is ready at the counter. This is possible only if there are commercial dishwashers which can wash the dishes in bulk. Dishwashers help not just in washing of dishes but also ensure that the dishes are hygienically clean so there are no chances of contamination. In any commercial establishment, health of the clients is of paramount importance and cannot be compromised with. So a well-equipped dishwasher which can be handled and operated easily is always the right choice.
Service-line : For running establishments which cater to a large number of people at the same time, a service-line is of great importance.There can be many types of Service Lines available for different type of functions. There can be Hot Service Unit for freshly prepared food. There can be Refrigerated Service Unit for cold food. There may also be display units – refrigerated and neutral. These ensure a professional look to the commercial eatery.
Bakery Unit : For those establishments offering baked items it is very important to have a commercial Bakery Unit where a large number of baking activities can take place at the same time. The commercial bakery units are equipped to handle a bulk volume of baking and things happen at a faster rate. So, if the eatery makes baked products or involves cooking that requires baking, then opting for commercial baking unit is a must.
These are four commercial kitchen gadgets that are very essential for commercial kitchen. Nowadays Rrestaurant Equipment India  produces is of the world class variety and of very high standards. And commercial kitchens must have these equipment's .