Published on August 13th, 2019 | By Admin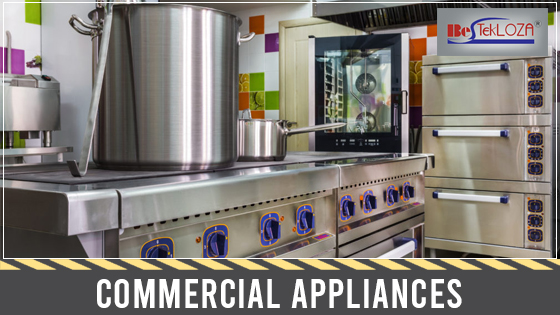 There was a time when there was nothing separately called as commercial appliances for commercial establishments. The normal appliances were mostly being used. At the most, the appliances were in larger sizes but there was no specialization or no additional features tht would make the appliances commercially compatible.
Over time with different discoveries coming in , commercial establishments too underwent massive changes and commercial appliances were developed which were compatible to serve larger needs.
Why are commercial appliances so much needed for commercial establishments?
Commercial establishments work on the equation of prim and proper service delivery on time. In order to do this there is always a requirement for bulk actions to be taken which is not possible without the usage of modern gadgets.

 Commercial appliances help produce a number of items at the same time so that a number of people can be catered to or attended at the same time. This is important so that no guest or client is kept waiting.

 Usage of commercial gadgets can ensure uniformity of the products and help provide a professional outlook to the entire thing. For example if one has to make muffins, a commercial baking machine would ensure that a large number of muffins are baked together and all have the uniform texture. Similarly, if coffee has to be served to the guests then a commercial coffee machine would ensure that all the coffee are of even taste and texture and a good number of guests are served at the same time.

A lot of time is saved by the usage of modern kitchen appliances. Just imagine what would have happened if there was a bulk order for hundred cakes and they were baked in batches of six to eight due to lack of proper kitchen appliances! It would have taken a huge time to complete the entire process and moreover a timely service wouldn't have been possible.

Commercial gadgets ensure the less usage of manual handling. This helps maintain the hygiene of the food prepared. Moreover lesser usage of manual handling is also cost effective for the commercial establishment.

Cleaning, handling and maintenance of commercial gadgets is much easier. There are set instruction manuals for cleaning of the gadgets. Which when followed, cleaning becomes easier. Moreover being purchased from commercial establishments, the maintenance of the gadgets is more or less easier to handle and there are professionals who do this maintenance work. Similarly if there is a repair or a breakdown, there are always professional services to help with the process, especially if the products are purchased from branded, commercial establishment.
All these are reasons why commercially establishments rely so heavily on commercial kitchen appliances for proper functioning. A good establishment would also insist on purchasing the gadgets from reputable brands so that in the long run the services provided are good and prompt. This is a must requirement for commercial firms.