Published on July 15th, 2022 | By Admin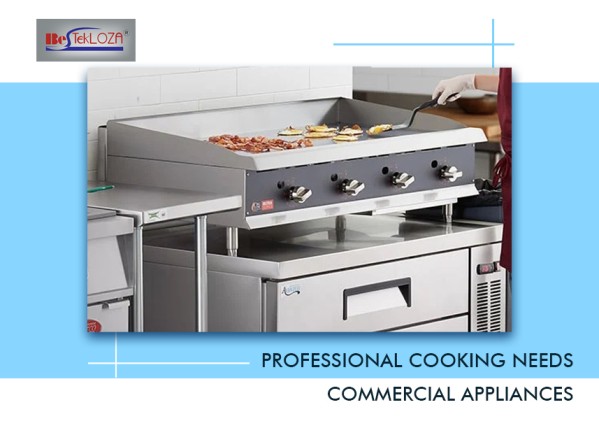 For efficient commercial cooking, what's better than commercial kitchen equipment India? Read more and find out the reasons for ditching domestic kitchen tools. 
The term "commercial kitchen" is synonymous with "commercial kitchen equipment". A professional cook having the right set of kitchen tools can make delectable dishes in no time. For professional cooking, domestic kitchen tools are useless because they reduce efficiency.
The Advantages Of Upgrading To Commercial Appliances
1. Serving A Higher Number Of Customers
This absolute fact is something nobody can deny. Further, the essential kitchen appliances often act as domestic kitchen counterparts. Not only does it help in cooking large quantities of food but also enables the maintenance of the workflow. Remaining in denial of this upgrade can end up affecting your food production. Now, this can have a direct influence on your efficiency.
2. Produces The Best Outputs
Suppose you have a commercial sweet corner where tons of customers visit every day. As a result, fewer and inefficient equipment will be of no use to you. Household equipment can be sturdy but they are unable to withstand the greater requirements. Additionally, professional kitchen tools are designed with the highest quality metals that keep them robust for years. Such maintenance helps in increasing their lives.
3. Overcoming The Rush Hour
Since the domestic kitchen is slow, it could be a possible reason for losing the race of the best. Hence, commercial kitchen appliances help you overcome the busy wave with immense smoothness. Moreover, your commercial kitchen will be able to cater to larger needs without any hitch. It is important to maintain your pace with incoming orders. Failing to do this can even result in your business degrading.
Reasons To Switch To Commercial Kitchen Appliances
In a restaurant, people are waiting to be served first. All eyes are on you because the slightest delay can navigate your customers to someplace else. However, the Indian kitchen tools comprise a set of all essential appliances. With it, you can prepare almost any dish in a very short time.
To grow your business, you will first need a bigger setup. Furthermore, there are several dishes that need a lot of prework. To satisfy your large crowd, you cannot depend on small-scale instruments. When you need to prepare multiple dishes simultaneously, simply grab the upgrade. Doing so will actually pay you off in the long run.
Conclusion
Are you looking for the best sweet making machine supplier Kolkata? Then, contact BestekLoza today. With them, you can easily upgrade your domestic kitchen tools. They are the most reliable commercial kitchen equipment supplier in Kolkata selling products at extremely affordable prices. So, head over to them soon. Call us now at, +91 9830254724