Published on March 17th, 2023 | By Admin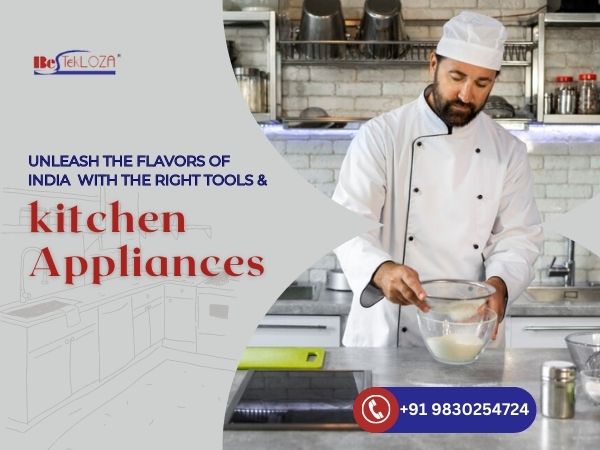 Read the blog on common answers to commercial appliances and indian kitchen tools to clear your idea about the food industry. And chosse the right tools & kitchen appliances for your kitchen.
Restaurant owners who are successful, rely on sturdy commercial kitchen appliances. Before investing in costly hotel kitchen equipment, take into account a variety of aspects. Consider the size, capacity, cost of protection, and business requirements, whether it is your café or any other eating establishment.
What types of kitchen equipment are essential for a commercial kitchen?
A: There are several types of kitchen equipment that are essential for a commercial kitchen, including ovens, ranges, refrigerators, freezers, and dishwashers. Additionally, depending on the type of cuisine you're serving, you may need specialty equipment like fryers, grills, and steamers. It's important to assess your needs and create a checklist to ensure that you have all of the necessary equipment to run your kitchen efficiently.
Q: What should I consider when purchasing commercial kitchen equipment?
A: When purchasing commercial kitchen equipment, you should consider the quality and durability of the equipment, as well as its energy efficiency and ease of use. You should also consider the space you have available in your kitchen and ensure that the equipment you purchase will fit and work well in your space. Additionally, consider the brand and reputation of the manufacturer, as well as the warranty and support offered. Finally, factor in your budget and weigh the cost of the equipment against its value to your business.
Q: How can I maintain my commercial kitchen equipment?
A: To maintain your commercial kitchen equipment, it's important to follow the manufacturer's recommendations for cleaning and maintenance. This may include regular cleaning, lubrication, and replacement of parts. You should also train your staff on proper use and care of the equipment to prevent damage or misuse. Additionally, consider scheduling regular maintenance checks with a professional to catch any issues before they become more serious. By taking proper care of your equipment, you can extend its lifespan and save money on replacement costs in the long run.
Q: What Advantages Do Used Kitchen Appliances Offer?
A: The principal advantages of purchasing used kitchen appliances are as follows:
Economical: You may potentially save hundreds of dollars by buying used kitchen appliances. You may easily replace outdated new kitchen equipment without spending a fortune.
Reallocate Budgets: Buying old kitchen appliances will save you money. You can use the money you save to purchase additional necessary tools and materials.
Last Words
Your search for the best kitchen equipment supplier in india can now come to an end. They are a trusted name to turn to when trying to buy efficient commercial kitchen tools and appliances. They have also participated in various turnkey projects including essential kitchen appliances. Contact us immediately.