Published on March 10th, 2023 | By Admin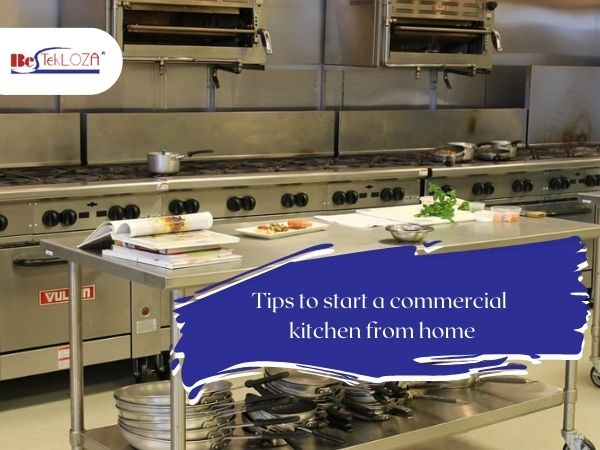 Your home can do so many more things if you transform your home kitchen into commercial kitchen. Don't believe us? Then read this blog to get the correct advice from kitchen supplier commercial.
Building a separate licenced kitchen in addition to your domestic kitchen is one way to achieve this if you're beginning a food service business. Another option is to licence your home kitchen under the cottage kitchen rules that are in place in many states. The latter method is significantly easier, but it drastically restricts the kinds of goods you can produce and sell, as well as the quantity.
If you're considering turning your home kitchen into a commercial kitchen, there are a few important things to consider. In this blog post, we'll discuss some key steps you can take to create a functional commercial kitchen by using turnkey kitchen equipment.
Ensure compliance with health and safety standards
Before you begin setting up your commercial kitchen, it's important to ensure that you're following all relevant health and safety regulations in your local area. This might include requirements for food storage, cooking, and serving. Be sure to research these regulations and make any necessary adjustments to your kitchen to comply with them.
Optimize the layout and workflow of your kitchen
When setting up an industrial kitchen kolkata, it's important to think about how you'll be using the space and how you can optimize it for efficiency. This might include rearranging appliances and workstations, installing additional storage, or making other changes to streamline your workflow. Be sure to consider factors like traffic flow and accessibility when designing your kitchen layout.
Invest in commercial-grade equipment
To create a truly functional commercial kitchen, you'll likely need to invest in some specialized equipment. This might include commercial-grade ovens, ranges, and refrigerators, as well as specialized tools and utensils designed for high-volume food preparation. When selecting equipment, be sure to consider factors like durability, efficiency, and ease of use.
Consider your storage needs
In turnkey kitchen projects, storage is key. You'll need to ensure that you have plenty of space to store ingredients, tools, and equipment, as well as finished products. Think about installing additional shelving or cabinets, or investing in specialized storage solutions like walk-in refrigerators or freezers.
Think about lighting and ventilation
Good lighting and ventilation are essential in a commercial kitchen. Consider installing bright, energy-efficient lighting that will help you see what you're doing, as well as ventilation systems that will help keep the air clean and fresh. This might include installing exhaust fans, hoods, or other ventilation solutions.
Conclusion
By following these key steps, you can create a functional and efficient commercial kitchen in your home. Whether you're operating a food business or simply enjoy cooking for large groups, a well-designed commercial kitchen can help you take your culinary creations to the next level.
The top supplier of hotel kitchen equipment services in Kolkata is Bestekloza. High performance, low maintenance costs, and budget-friendly. So, investing in hotel kitchen equipment from us can help your commercial kitchen flourish.