Published on August 26th, 2019 | By Admin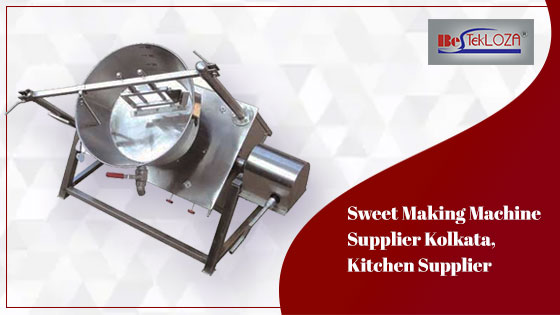 Sweets are an integral part of India life, especially that of Kolkata. No commercial eatery is perhaps there where the desserts do not include a variety of sweet or the other. Other than conventional sweet shops where commercially sweets are prepared for mass consumption, there are also eateries, canteens and restaurants where sweets are prepared and present for the customers.Since times have changed, there are now commercial solutions – from sweet preparations to display and presentations. There are efficient turnkey kitchen solution suppliers supplying world class products. The type of sweet making machine supplier kolkata boasts of, like Bestekloza, is one of a kind which provides commercial kitchen solutions of very high class and kind.
What are the different types of kitchen solutions for sweet manufacturing?
 2 Door/ 4 Door Vertical Chillers and Freezers: These are freezers especially designed for storing of sweets and sweet items. It not just provides best chiller and freezer solutions but is also low on energy consumption and saves on costs.
The special features include:
 Complete SS Body
 GN Pan accomodation with Adjustable Shelves.
 Removable Gaskets for easy cleaning
 Digital Temperature Display
 Mounted on Wheels for easy movement from one place to another
 These are available in 2 types – 2 Door and 4 Door Freezers.
2.  Bend Glass Counters with Customised Designs in Lower Panel : These offer the perfect storage and display option for sweets. The equipment is designed in such a way as to attract customer attention.
The special features include:
Made of Complete Stainless Steel
Sides, Front, covered with glass.
 2 nos of Shelves with bottom.
 Light Canopy with Chanelling.
Completely sealed glass without any air gap.
 With Emerson Compressor for Cold Refrigerators.
 Can also be customised as per Client's Requirement.
Available in Refrigerated, Neutral, Hot
3.  Baked Rosogolla maker: Baked rosogolla is the latest fad in the world of sweets and the Baked Rosogolla maker eases the process.
The special features include:
 Stainless steel front Door and front Panel.
 Max. 450c temperature control. Fast cooking within 5 minutes.
 Thermostat controls separate.
 Reinforced door for easy service door and frequency open and close operation.
Reinforced high temperate glass window for monitor baking condition.
 Long live halogen lighting system for better to check baking process.
The different commercial equipments related to sweet making process – from preparation to storage to display are all available under one single roof whereby the customer can get the best of solutions at a go from Bestekloza. The availability of a comprehensive solution makes the work process a lot easier.