Published on April 3rd, 2020 | By Admin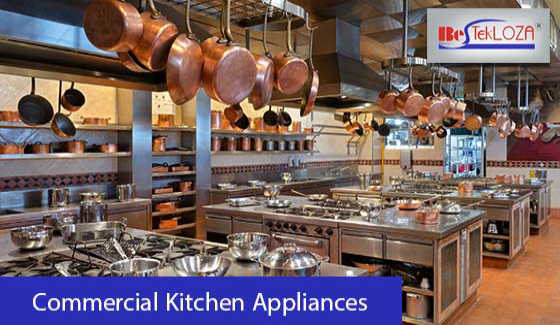 Kitchen and kitchen gadgets have changed over years. Now commercial eateries need Commercial Kitchen Appliances as well. Here's more on the kitchen journey. Kitchen is an integral part of Indian life. No Indian household is complete without a bustling kitchen. It has been like this for ages. Over time when people began to explore outside their home, they began to think of eating outside. Thus eateries came into existence and the feeling community eating began to flourish. Gradually there were commercial kitchens and Commercial Kitchen Appliances as well. Here is the evolution of commercial kitchen appliances:
Evolution Of Commercial Kitchen And Appliances:
* Man began his life as a hunter-gatherer. With the discovery of fire, the concept of cooked food came into existence. Soon men began to discover the joys of culinary skills. What was first just roasting into fire and eating became special with the addition of spices. Taste becomes a factor in cooking as well.
* As men began to live in organized households, the kitchen became an important part of every home. Kitchen utensils too became an important part of the household. And not just kitchen utensils, kitchen gadgets too became important.
* With the progress of time when time became a crisis, new gadgets evolved which eased the kitchen work. For example the mixer grinder replaced the traditional stone grinders and mortar and pestle. And the advent of these gadgets was not limited to cooking alone. There were dishwashers to help in washing of the dishes and utensils.
* When commercial eateries began to flourish, there arose a need for commercial kitchen gadgets as well. Ordinary kitchen gadgets are not enough to handle the bulk and hence we now have commercial kitchen gadgets.
There Are Added Advantages Of Commercial Kitchen Gadgets:
* these equipment can do work in bulk and together which is very essential. So you are able to chop a huge quantity of vegetables at the same time, you are able to fry items in bulk and cook mass amounts of food at the same time. This will mean you will save a lot of time and serve clients on time as well.
* one of the boons of using these gadgets is that you are able to cook and present in an uniform manner and this preserves the food quality as well.
* From cooking to cutting chopping, grinding, frying baking – the number of commercial kitchen gadgets are unlimited but you cannot buy these gadgets from unknown suppliers. You need to insist on good quality and value for money.
For the best commercial kitchen appliances you can trust on Bestekloza. The company offers some of the best types of and innovative gadgets and all at a very affordable cost.