Published on August 12th, 2022 | By Admin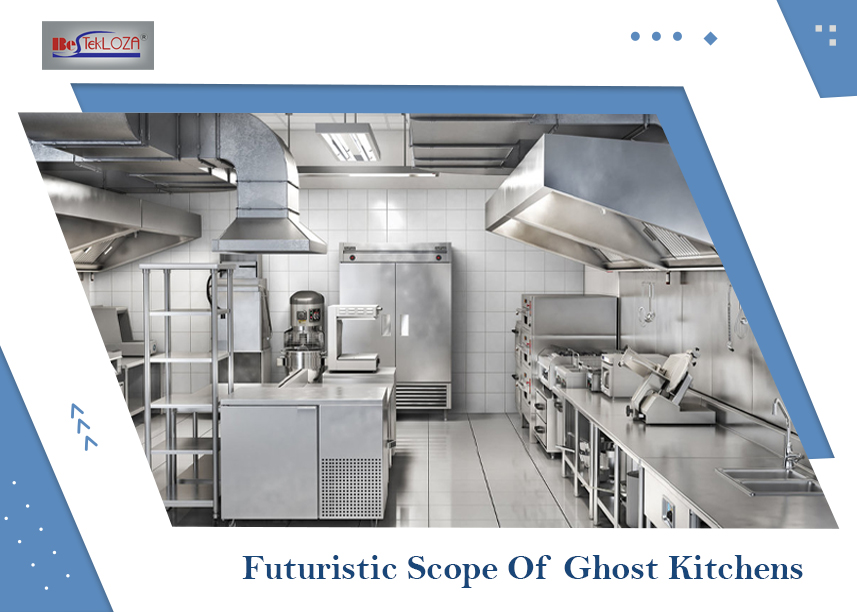 Recently, there have been a lot of changes in the Indian restaurant equipment. So can be the future of commercial kitchens. Read this blog and know more about it.
There is the latest addition to the concept of industrial kitchen equipment. And it is 'ghost kitchens.' More or less, every commercial sweet corner has integrated it. Given below is the definition of ghost kitchens and how they are the future of virtual restaurants.
What Is A Ghost Kitchen And Virtual Restaurant?
Ghost kitchens are locations that aid in the preparation of food delivery. Moreover, these are places where virtual brand production takes place without a brick-and-mortar location. They are facilities with essential kitchen appliances and are designed solely for producing virtual kitchens. 
However, ghost kitchens do not necessarily have to be just a restaurant. It can house various brands from a similar company. Some rented kitchens may offer anything from restaurant equipment India to kitchen infrastructure. Further, with a turnkey solution, an external brand handles all your ghost kitchen production. 
While people may often interchange the concept of "virtual restaurants" and "ghost kitchens", they are very different. Unlike ghost kitchens, a virtual restaurant never rents a kitchen space via a third party. Additionally, they have a brick-and-mortar location where they can use their kitchens for supporting online orders. 
The concept of a virtual restaurant is definitely worth exploring especially for restaurants. Both virtual restaurants and ghost kitchens offer flexibility to every kitchen supplier. 
Increase In Online Ordering Influences Ghost Kitchens
While restaurants are hesitant about the adoption of technology, there is a rise in online ordering of food. 87 per cent of Hospitality Sector of the Industry Report agree with the fact. Moreover, the adoption of new technology over the past years is critical for the survival of businesses.
There is an increase in third-party delivery providers. As a result, there is an increasing interest in millennials in ordering food online. There is a constant change in consumer habits. These restaurants simply need multifunctional kitchen equipment and they are good to go. Adapting to technology is the best answer.
Finally, most customers prefer ordering with flexibility and providing multiple options. These new offerings even have an impact on how much every consumer orders. With 34% of customers spending more than $50 per order while online ordering. A classic example of this is a canteen business.
Conclusion 
BestekLoza is the best sweet making machine supplier Kolkata. They are a leading contributor to a maximum number of commercial restaurants. Get in touch with them today and buy industrial kitchen Kolkata at extremely affordable rates. To know more about them, visit their website. Call us now at, +91 9830254724