Published on March 31st, 2023 | By Admin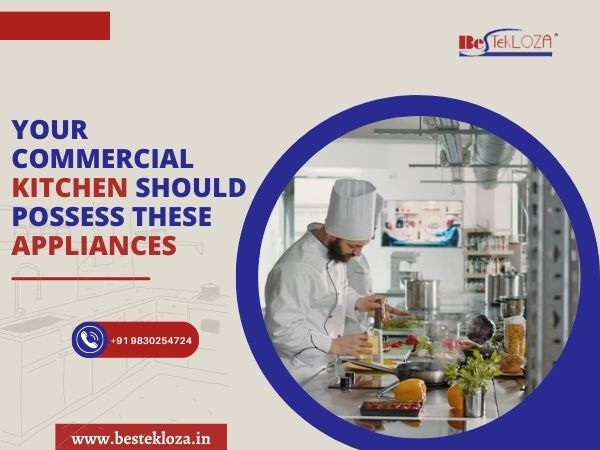 In a professional kitchen, the list of hotel kitchen equipment literally never ends. Here are the top 10 Must-Haves For Your Professional Kitchen.
Food service establishments have to think very carefully while buying Indian kitchen tools. Each one of them serves a different purpose. And while one may seem more important than the other, you have to incorporate all of them. 
10 Must-Haves For Your Professional Kitchen
Commercial-grade Oven: High-quality ovens are essential commercial kitchen appliances for a commercial kitchen. Depending on your menu, you may need a combination oven, convection oven, or pizza oven. The latter can reach high temperatures for quick cooking times.
Commercial-grade Refrigeration Units: To keep your food fresh and safe, you need high-quality refrigeration units that can maintain the temperature consistently. Commercial-grade refrigeration units are designed to handle heavy use and maintain consistent temperatures.
Professional-grade Range: A range is an essential appliance that provides both a stove and an oven in one unit. This appliance can save you space and money in your kitchen. These appliances are built to withstand the heavy use of a commercial kitchen and can save space and money by combining two appliances in one.
Stainless Steel Work Table: A durable stainless steel work table can provide a sturdy and easy-to-clean surface for preparing food. Look for a work table with adjustable legs to customize the height to your needs.
Commercial-grade Dishwasher: A commercial-grade dishwasher can save time and ensure proper sanitation in your kitchen. These appliances are designed to handle high volumes and can sanitize dishes and utensils quickly and efficiently.
Food Prep Equipment: Depending on your menu, you may need food prep equipment like food processors, mixers, slicers, and choppers. Look for high-quality equipment that is easy to clean and maintain.
Cookware and Bakeware: High-quality cookware and bakeware are essential for preparing food in a commercial kitchen. Be sure to choose durable and easy-to-clean options. Durable materials like stainless steel or aluminium can handle heavy use and are easy to clean.
Cutting Boards: Cutting boards are essential for food prep and can help prevent cross-contamination. Choose boards made of materials like plastic or wood that are easy to clean and sanitize.
Kitchen Utensils: A variety of kitchen utensils like spatulas, ladles, tongs, and spoons are necessary for preparing and serving food.
Fire Suppression System: A fire suppression system is necessary in case of a fire emergency in your kitchen. Make sure to have this system installed and inspected regularly.
Conclusion
Do you wish to include the widest range of essential kitchen appliances in your kitchen? Then, get in touch with BestekLoza today. We have always remained the best kitchen equipment supplier in India.