Published on April 24th, 2019 | By Admin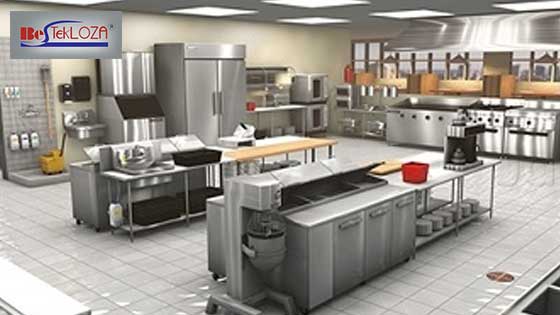 Every commercial kitchen has several specific components which require to be set up using the appropriate kitchen instruments. While there is an extensive range of commercial kitchen accessories available, any successful kitchen will always have its components organized systematically. This is done to optimize the functioning as well as the efficient performance of the kitchen space.
Every kitchen has five major components which provide for an operative commercial kitchen space-   
1. Cleaning, washing
2. Storage of the food
3. Preparation for the food
4. Cooking the meal
5. Servicing
The industrial kitchen equipment is not only used to add style to the commercial place. Rather it also ensures its smooth business and activity. Therefore it is highly important that the commercial kitchen equipment supplier is able to handle the pressure of the commercial enterprise. As the owner or organizer, you should also choose the right kind, durable and superior quality appliances which will boost sales and push forward the productivity of the business.
Space utilization  : Every kitchen should have arrangements that make use of the inside space judiciously. It is essential that all types of equipment adjust properly and space does not look congested. The employees should be able to move around freely to deliver quality service. It should also be according to the budget requirements of the owner. Stoves, refrigerators, utensils dishwasher, dispensers, cream machines, etc are some of the major accessories required in every commercial kitchen.
Fast workflow  : If it is a commercial sector, the owner should ensure that all the work is being carried smoothly and at a fast pace. This is why the owners make sure that the maximum space is garnered. Professionally designed industrial kitchen equipment in Kolkata assures that efficient work is done in an excellent environment. Time is the essence of every restaurant business. You know that as a customer you will always prefer places which have faster service. This is why the employees should be given adequate for their effortless functioning. This also has to be arranged without any unwanted confusion or chaos.
While fitting all the kitchen machinery and other appliances, one needs proper planning or it can hinder the smooth working of all the activities.
Energy Saving : Another part of commercial kitchen planning is to make sure that the restaurant is energy efficient. As an owner, you would always want to decrease the consumption of power inside the restaurant. Therefore, the commercial kitchen supplier should provide equipment that absorbs less power. While equipment like refrigerators, fryers, and steamers demand more space, for better outcomes they should also be able to save energy. This will prevent the owners' expenditure on appliance damage and repairs.
You can choose that equipment which has energy star rated certifications as well as other important features.
Compliance and Standard : Every commercial kitchen should be able to meet the designated and standard health codes. Although meeting all these specifications is a difficult task, you can take help from professional companies for more help and support. You can also get your restaurant easily certified for maintaining the mentioned health codes.
For the best experience, you can buy commercial kitchen materials from "Bestekloza", one of the largest and most popular commercial kitchen designer and equipment supplier.