Published on September 2nd, 2022 | By Admin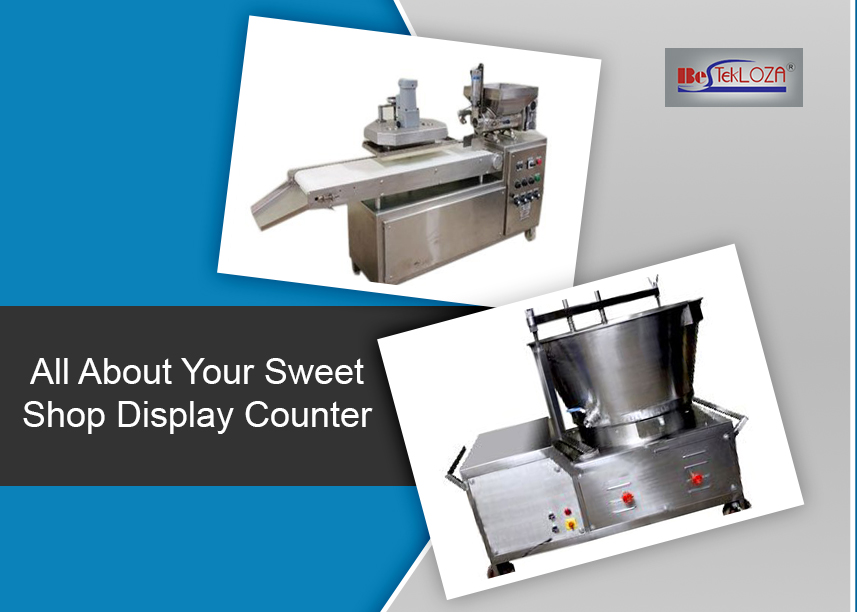 Do you own a commercial sweet corner? Then, you must have dreamt of making it more attractive and economic. Read this blog to know everything about it. 
Just like a commercial kitchen needs essential kitchen appliances so does a commercial sweet display counter. The first thing a customer notices about your confectionary is the display of food items. Make sure you make them fall in love with your sweet shop just at the first glance. 
Things You Must Consider About A Sweet Shop Display Counter
1. Maintaining cleanliness and freshness 
You must always ensure that the sweets inside the counter must be fresh as well as non-stale. Since sweets attract flies and mosquitoes largely, make sure to use all commercial appliances to keep them away. Always make sure that the display counter has an extraordinary mechanism that keeps bacteria and germs away from the sweets. From time to time, it is important to maintain the freshness of the food items. 
2. Sizes and shapes 
We often visit sweet shops that have a small counter. Due to this, we get to see only limited sweets as most of the ones are stored elsewhere. As a result, we switch the store from some other store. With a small and cluttered sweet counter, you can lose a lot of your customers. Hence, size is an important factor. All you have to do is just consider the right size, not too big or too small.
3. Refrigeration 
Bakery display counters usually have two cooling systems. The first one is a static cooling display counter and the second air cool display counter. Both of them have significant benefits and are a part of essential industrial kitchen equipment. Both sweet shops and general stores use the static cooling display counter as it is quite affordable. On the other hand, bakery and pastry shops use an air-cooling display counter.
4. Style and maintenance
Display counters must be one that is easy to maintain without needing extra effort. It must be both spacious and well-organized. Such ergonomic sweet counters assist in getting a spill-proof food counter. You will also get counters with movable trays as well as shelves in the markets. You can remove the trays as and when you want. Finally, you can clean it using a moist cloth. Also, don't forget to include a great lighting system in your display.
Conclusion
Do you want to own a commercial sweet counter? Get in touch with Bestekloza and invest in the most premium ones. They are also the largest sweet making machine supplier Kolkata with the most assorted range of commercial kitchen equipment. Head over to them today and buy what's good for you.