Published on July 17th, 2020 | By Admin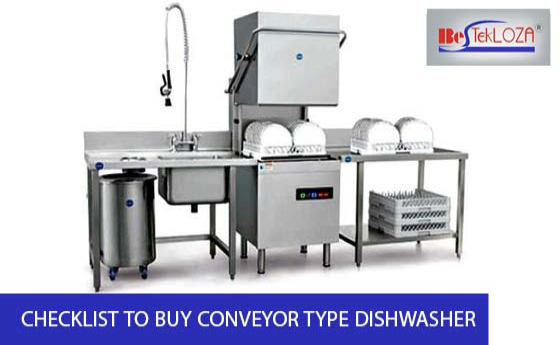 There are many benefits of buying Conveyor Type Dishwashers Online. However, you need to keep a few things in mind before actually doing that. Read to know more.
When it comes to handling and organizing a commercial kitchen space, it has to be more efficient so that more productivity can be gained and the business can prosper. As an owner, you also have to take care of the other factors like minimizing the manual labor, effort and time, using less water, electricity and avoiding maximum and potential hazards. This is why as the owner of a commercial kitchen, you should purchase a Conveyor Type Dishwasher Online.
They are a great all-purpose appliance which is available in a variety of sizes, shapes, along with different technicalities and functionalities. When you use such appliances in a kitchen, you can streamline your cleaning process more effectively and judiciously. This is why you should definitely get a Dish-washing Machine Online In Kolkata. But, before you do that you need to keep a few things in mind.
Things To Keep In Mind Before Buying A Conveyor Dishwasher: 
Size:
In the world of commercial kitchens, the size of the rack determines the size of everything else. This is the place where you load dirty utensils and dishes. Although the basic frame of the rack can vary in shape, some of the companies feature lattices inside their machine. As a result, they can separately store glasses, cups, and plates, mugs, etc in rows. Others have stalagmite, ideally for pans, pots and glass dishes. The hollow ones can best accommodate spatulas and silverware. The exterior shell of these racks should come in the single standard measurement of 20''x20"  which is suitable for almost every commercial kitchen use. Always get a Conveyor Type Dishwasher. 
Types:
Determine Which Type To Select From- 
Door type which is like a dish pit. These have many stations where you can dump leftover food, rinse off the crumbs, a washer, a place to dry them and then put the dishes away. The kitchen which uses a common dish pit setup can take the help of this dishwasher to make their work easier.
You can buy an online conveyor type dishwasher, suitable for larger kitchen spaces. They have a compatible dish pit design and can perform cleaning at a higher capacity. The racks are hooked to a separate conveyer belt which pulls the dishes through a wash chamber and cleans them. Low-end conveyor machines can clean almost up to two hundred racks every hour and save a lot of time and effort.
The designs of Glass Washers are exclusively for glassware and stemware and render both versatility and efficiency. They can almost successfully wash two thousand glasses per hour.
Flight dishwashers are one of the largest conveyor categories of the dishwasher. They can take a heavy load of work. Hospitals, cafeterias, banquet halls where the gathering is large use this kind.
Temperature:
The final factor that you should consider is wash-temperature. High temperature removes the grease and cleans the dirty kitchenware more reliably and readily. As a result, the machine goes through shorter wash cycles. Besides, there is no extra requirement for stocking chemical cleaners.  However, these are more expensive than chemical units. High-temperature units often include a booster heater, a miniature type of water heater that attaches to the waterline.
In order to design a commercial kitchen space, you can purchase good Indian Kitchen Tools from "Bestekloza" according to your suitability and sustainability  and work towards making more productivity in the business.