Published on December 13th, 2019 | By Admin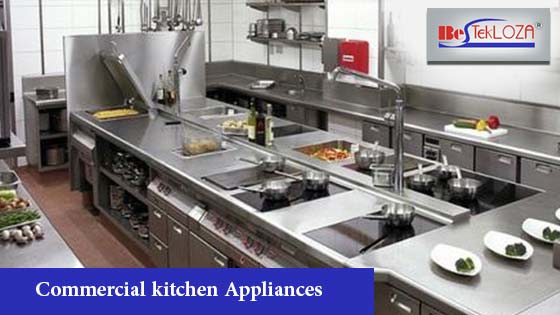 Kolkata loves food. People of Kolkata hunt for restaurants and different eateries. Kolkata has also received the tag of the most budget-friendly roadside food in town. Not only in Kolkata. People all across the globe love to eat. Food has become a fashion these days. Food lover by the name of Foodies is coming up. Instagrammer, Facebook lovers are becoming food bloggers. Food is not just a means of sustenance but also a conspicuous consumption commodity. All the load of such a growing food trend falls on the commercial kitchen. These are restaurants, hotels and other eateries. To shed the load and make it a bit lighter, technology has gifted commercial kitchen Equipment. This equipment can apparently serve a huge number of customers and workloads. Therefore we have a Commercial Kitchen Equipment Supplier in Kolkata. The kitchen love exists and the load is managed so well there.
What To Get From There?
Find the best and advanced machines there. These sell a huge range of products-
Bakery- This Is one of the most user-friendly equipment. It is a huge compartmentalized oven, that has huge baking capacity. No more does one have to sit in front of a heated furnace to put in cakes and pastries and bread's batter. The oven is fully closed and gives out the least heat. It is the best bakery equipment. They also have storage and decorative showcases.
Coffee makers- coffee too is a very in thing in this era. Make perfect coffee with these machines. Serve a lot
Pantries- get the best pantries here to keep your kitchen organized.
Refrigeration- with perfect all side cooling and large storage capacity. Keep your raw chickens and fishes fresh for a really long time now.
Specially fabricated equipment- an all in one process. A huge machine with boiling pan, grill, and scuttle.
Also, it has an amazing snack maker that serves crispy and mouth-watering snacks.
Why Buy From Here?  
Therefore, the collection of innovative machines that helps to prepare, store and serve food faster than common hands. The new techniques used in the machines are fascinating in large kitchens like those of restaurants. These machines are user-friendly and serve a great deal of food. The taste is not compromised. Neither is the quality compromised.
To make life easier in commercial kitchens Bestekloza has come with a huge range of options. It is the most prominent seller of commercial kitchen Appliances in town.