Published on October 4th, 2019 | By Admin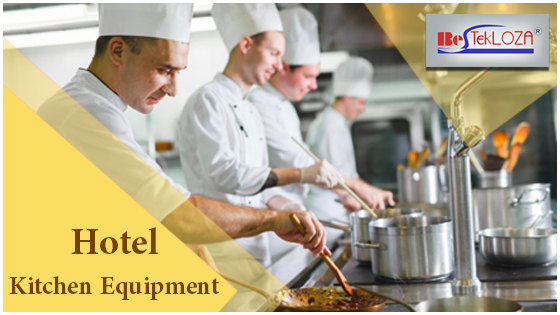 There is a saying that goes, "Good food is a good mood." Whenever we eat delicious food, we automatically become happy and satisfied. Food always brings a big grin on our face. Usually, when we go to the restaurant, all we care about is the food. If the food is good, we become happy, and if it is not, then we call out the chef. Even the manager calls out the chef and questions him. A lot of restaurants don't pay enough at tention to the heart of the kitchen, which is the Hotel Kitchen Equipment In Kolkata.
The kitchen equipment is the powerhouse of a kitchen. They have a high hand in delivering good food. You need to have excellent quality equipment to cook the best food. Several factors go behind choosing the right kitchen equipment. Let's have a look at some of them.
How To Choose The Proper Kitchen Equipment:
First thing first, a commercial kitchen should always have everything. They should still have updated and advanced technology. The factors that should go behind in choosing the right kitchen utensils are:
Technique: Make sure the equipment you have are the latest and best in the market. They should have the newest working system. Updated kitchen equipment is a must for commercial kitchens.

Safety First: It is imperative to ensure the safety of the kitchen and the people. Hence, you should choose equipment that is less hazardous and provides enough safety solutions. A commercial kitchen should always pay attention to safety than the interiors. Working with electrical equipment and fire are quite dangerous. You need to be skillfully trained to maintain safety skills. Only professionals should be allowed inside a commercial kitchen. Even when you are giving a kitchen tour, make sure you have a professional around you.

Quality Above Quantity: A restaurant owner should always pay attention to the variety of Hotel kitchen equipment. The price should not matter to maintain a pleasant kitchen environment. Invest in the right quality equipment and make it long-lasting.

Have Enough Knowledge: You need to have enough knowledge about kitchen equipment before buying and starting a restaurant. A restaurant owner is as responsible as the staffs, even more.
These are some tips on how you should choose the proper hotel kitchen equipment in Kolkata. While emphasizing on the right equipment and structuring, you can rely on "Bestekloza" which is a numerous commercial kitchen appliance manufacturer.