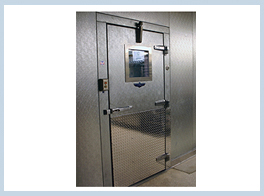 WALK IN CHILLERS & FREEZERS
PANEL CONSTRUCTION :-
Panels are manufactured with interior and exterior metal skins precisely formed to ensure proper size
Panel core is polyurethane form, using non CFC propellant.
For Chillers, Panel thickness is 60 mm and for freezers , it is 100 mm
INSULATION :-
Insulation is done by rigid polyurethane foam
Density is 40 kg/m3 to 44 kg/m3
K-factor is 0.133 BTU per hour /foot square/F /inch
Yield compression strength – 350 kg for floor, 200 kg for walls
SECTION FASTERNERS AND CONNECTORS :-
Each device consist of a precisely located cam lock and steel pin.(wall to wall, wall to ceiling, wall to floor)
All locks are actuated from inside the enclosure with a standard type Allen wrench.
All access holes are to finished with vinyl caps on wall and ceiling panels on floor panels.
SECTION GASKET :-
All panel sections have two rows of closed cell gasket attached to the top, bottom, and cam lock side of the panel, creating aself-sealing, air-tight joint
Gaskets are NSF approved vinyl extruded gasket.
DOORS :-
Coolers and Freezer doors are of hinged and flushed type with a clear opening of 860 x 1980.
Freezers doors are provided with strip heaters
Door finish matches with the panel finish both inside and out
Provide door locks of Kason Brand.
Coolers and Freezers doors are provided with Kick plates of 610 mm height of No. 16 gauge stainless steel on both sides.
Doors are having Built-in cylindrical lock, with cam lift-type self-closing door.
Bottom of doors are provided with sweeping rubber wiper sealing gasket.