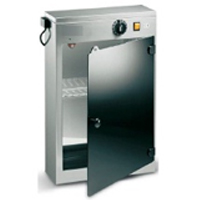 Knife Sterilizer
ITEM DESCRIPTION:
Made from AISl430 stainless
of lamps : 2
Absorption : 70 Watt – 3A
Timer: 0-120 min
Knives capacity: 15-piece
Max length of the blade of the knife : 310 mm
Chamber is closed by a smoked plexiglass
Removable see-through plexiglass knives holder makes sanitation easier and allows sterilization without having to rotate the
Mercury vapour lamp with wire screen protection.
A safety microswitch switches the lamps on when the door is opened and switches them off when it is closed,
Knives holder with built in drops collecting tray. (only on 24W version),
The curtesy lamp, on 24W model, turns on only when the switch is "on" and the timer is at "0".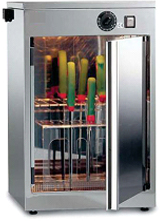 Model
Dimension
(mm)
Gross
(Kg)
Gross (m
3 )
Power
(W)
Energy
STERILIZZATORE

16W

400 X 140
X 620
11
0.08
16
220 V/ S0Hz