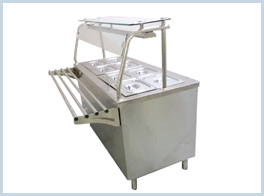 HOT SERVICE UNIT
GN size : 1/1 x 150 mm deep
Body and paneling made of stainless steel
Controlled by thermostat.
Drainage tap
Without container
Tray slider can be added.
Additional Sneeze guard of 450mm H
On units without accessories, caps are used to cover the glass shelf connection holes and tray slider connection holes.
| | | | | | | |
| --- | --- | --- | --- | --- | --- | --- |
| Model | Dimension (mm) | GN Capacity | Gross (Kg) | Volume (m³) | Power (W) | Energy |
| BLBMH800 | 800 x 700 x 850 | 2 x 1/1 GN | 45 | 0.65 | 2700 | 220 V/50 Hz |
| BLBMH1250 | 1250 x 700 x 850 | 3 x 1/1 GN | 72 | 0.90 | 2700 | 220 V/50 Hz |
| BLBMH1500 | 1500 x 700 x 850 | 4 x 1/1 GN | 84 | 1.05 | 2700 | 220 V/50 Hz |
| BLBMH1800 | 1800 x 700 x 850 | 5 x 1/1 GN | 100 | 1.30 | 4300 | 220 V/50 Hz |
| BLBMH2100 | 2100 x 700 x 850 | 6 x 1/1 GN | 162 | 1.40 | 5400 | 220 V/50 Hz |